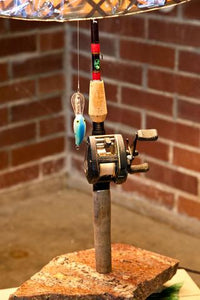 Reclaiming Memories One Rod at a Time
In the world of home décor, few items make more of an impact than cleverly repurposed or recycled objects that have otherwise outlived their usefulness. Instead of being relegated to the nearest dump or landfill, a growing number of various types of cast-offs are being given a new life and purpose as one-of-a-kind rustic showpieces.
Like car-lovers, long-time anglers develop a real working kinship with their fishing gear, so putting a favorite rod out to pasture is an often-painful reality. If not disposed of, many a rod have been relegated to a dark, dusty corner of the garage or cellar simply because of the memories associated with them. Luckily, Reel Lamps can bring your old, cherished rods back to life as handsome table, floor, nightstand and wall lamps.
These Lamps are the Reel Deal
All our lamps are created from intact, damaged or broken fishing gear, including reels, rods, lures and discarded scraps of granite. The fishing gear has either been rescued from being sent to a landfill or sent to us by clients who want custom lamps created from their own gear. These old freshwater and saltwater treasures are enjoyed by anglers of all ages. Our hand-crafted lamps occupy a special place in living rooms, dens, fishing and hunting cabins and offices around the world.
Our patented lamps feature a variety of poles (casting, fly fishing and trolling), reels (bait casters, spinning and fly fishing) and unique shades with a host of fish species. From bass to walleye, from crappie to catfish, even saltwater fish, our lamps can be created to fit your cabin style and preferred species. The ecologically-friendly approach to creating these lamps from reclaimed materials was no accident; our founder, Chet Nosalik, is an experienced angler who wanted to create something unique that captured the attention of or preserved memories for fishing enthusiasts around the world.  
A Look at Some Lamps
All the fishing equipment we use is repaired or restored until it shines like new and the granite bases are polished and mounted on four sturdy wooden supports, with each lamp being constructed by hand.
Our Night Stand lamps are available in several styles, featuring a wide range of rods, reels and lures. As with all our lamps, the wiring is inserted into the rod for a clean, natural look.
Our Fly Reel lamps are perfect for the purist. The nightstand lamp is 26" tall and features a vintage fishing rod and reel and a popper lure switch-pull. The table lamps vary in height from about 31" to 34" tall and include vintage gear.
One of our tall, fishing-themes floor lamps features a 15" diameter lamp shade with a bear in a canoe, a Tackle Plus Pro Rod stand with a vintage fly reel, a popper lure switch-pull and an 11" by 9" granite base.
We have a large selection of Night Stand lamps from which to choose, including one model featuring a 12" double crappie shade, a BPS rod, HT reel and a crank switch-pull. This lamp is 22" tall and sits on an 8" by 7" base.
Our wall sconces are unlike any other on the market. One of our lamps features a 12" diameter bluegill shade, a BPS Rod, HT Reel and a bobber switch-pull. The pole extends from a solid, 15" by 8" natural wood plaque. The entire unit is 15" deep.
We Haven't Forgotten Hunters
We understand the love of fishing also includes a love of hunting, so our latest copyrighted lamp design is of the arrow lamp – featuring a shaft created from a real arrow and a deer antler tip or medallion pull. These table lamps are between 21" and 28" tall (nightstand size) and use our 9" or 12" lamp shades. You can also custom design your own arrow lamps.
Our unique hunting floor lamp measures about 69" tall and features a 16" diameter deer shade. This eye-catching lamp includes a stand made from a gun case and a shotgun shell filial and switch-pull. The lamp sits on a sturdy, 10" by 10" granite base.
Reel Shades
Every fishing lamp needs an appropriately unique shade. At Reel Lamps, our shades are constructed of faux oil-kraft with lacing top and bottom and standard brass-plated spider wire across the top that works with the harp (lamp bracket) and finial. Our shades are available in 9-, 12-, 14- and 16-inch sizes and all feature a fishing or hunting motif. From bluegills, catfish, walleyes, trout, bass, sailfish and tarpon to a wild turkey, bears, deer, moose and duck, our shades bring your favorite fish or game into your home.
When it comes to marrying creativity with a love for fishing and hunting, no company does it better than Reel Lamps. Uniquely reclaiming materials that once brought years of pleasure to countless anglers gives these old rods, reels and other fishing gear the chance to bring many more years of pleasure to others.
---