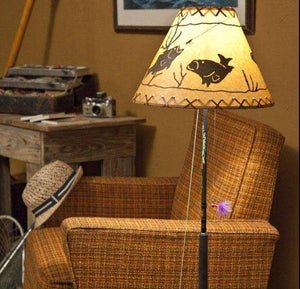 Decorate Your Fishing / Hunting Cabin
Owning a fishing cabin is a lifelong dream for many anglers and hunters. These structures, large or small, not only become permanent base camps, they're sanctuaries away from home. If you have a cabin on a fishing lake or river, there are plenty of ways to carry the fishing theme into the decor of your country retreat.
These cabins don't have to be sparsely furnished and decorated simply because they may not be used that often. In general, most anglers who have cabins don't put too much time or effort into decorating the place because they've got fishing or hunting on their minds. On the other hand, many men and the women who love their fishing cabins often do take the time to make sure their cabin is comfortable and demonstrates their passion for their chosen sport.
Choosing a Decorating Theme
Fishing cabins decorated in a mountain, fishing or lodge theme reflect a cozy, casual style. The decor typically incorporates warm colors and natural elements to create a rustic, easy-going atmosphere. The cabin's color palette is often warm, using deep green, rustic reds, blue and earthy browns on furniture that won't compete with the natural surroundings. Avoid saturating the living area with too much wooden furniture, especially if the interior walls are planks or logs.
A cabin's furniture is usually made of sturdy wood, such as including a round reclaimed wood table to gather around. A deep, comfortable sofa and chairs are a must when cozying up to the fireplace at night. If the cabin is used more often for family or group excursions, space saver furniture that's capable of making the best use of limited room might be the way to go.
New and perfect isn't always right for cabin decorating. While well-worn or distressed furniture and accessories typically yell fishing cabin, that doesn't mean going too far in that direction. Nothing that's tacky or even broken will be visually appealing or even comfortable. The "trash to treasures" style of decorating is completely appropriate for a fishing cabin – if you know where to draw the line.
Try Novel Lighting Ideas
Not every fishing cabin is awash in natural light throughout the day. Age and construction style may limit the amount of sunlight that reaches the interior. Luckily, the number of rustic lighting options are as varied as cabin styles. A black, wrought-iron chandelier hanging from a vaulted ceiling and decorative lantern sconces on walls inside the main entrance and in the kitchen and bathroom will provide plenty of character along with light.
Every angler has more than one fish story and more than likely, also more than one broken or retired rod to illustrate those stories. For real visual interest, a fishing theme and maybe a little of your own history included, Reel Lamps fishing cabin and hunting cabin lamps are created from real freshwater and saltwater fishing gear, arrows and solid granite scraps that would otherwise be discarded. The table, night stand and floor lamps are constructed of broken rods, reels and old lures. Those treasures are rescued and cleverly repurposed to create unique lamps and wall sconces. Ordering one or more pre-made lamps is as easy as selecting a lamp design, choosing a lamp shade and granite base, then choosing one of the following lure and reel types:
Reels: Spinning reel, fly reel, bait caster or button reel
Lures: Fly, jig, stick bait, top water or crank bait
The company will even create custom fishing pole lamps using your own old fishing gear to help keep those fishing stories and memories fresh. Fill your cabin with your own customized lamps by simply filling out the custom order form and finalizing your order and design before sending your old fishing equipment to the company.
Finishing Touches
If there's some unused wall space in the main living area of your cabin, consider installing a custom rod storage system. Depending on the number of rods you own, it will take up little space and will keep your fishing rods neat and easy to locate. Besides, it makes a great conversation piece. Woven or braided rugs, old quilts and pottery, plants potted in antique tins and woven baskets will add color and warmth to any area in the cabin. Decorative mirrors, wooden shelving, old clocks, fishing photos or prints and antique lanterns will add finishing touches to your decor.
No matter how rustic or country the design of your fishing cabin may be, every angler wants a great kitchen to prepare the day's catch. Updating old appliances, adding some extra storage and brightening the room with some bright accents and fresh herbs can make a world of difference in an older kitchen.
If you're the type of person who likes to hang pictures on the walls at home, then you can do the same thing for your fishing cabin. And if you're not, ask your friends and family members for ideas or to pitch in and make a day out of it.  A fishing cabin should look and feel like a place to rest and relax; make it comfortable and interesting and you've made it your own.
---